Cauliflower with Peas
Cauliflower can be cooked in many ways, but the recipe below is quick, easy and very delicious. No water is added, the cauliflower cooks in it own juices.
When you have sauteéd the cauliflower, put on the pot lid and cook it on a low temperature for about 12 minutes. Stir to ensure the contents do not stick to the pot. The closed lid and heat loosens the water from the cauliflower. It will cook in its own juices. Remove the lid, add frozen peas and now cook on a high heat. Scoop the mixture of spices onto the florets and turn them over occasionally.
At this point stir, & watch the pot to ensure the contents do not burn. The liquid will bubble, as it decreases, (See picture below). Lower the temperature. When the liquid is very low turn off the heat. Set aside and garnish with cilantro. See recipe below for details.
Ingredients
1 medium size cauliflower
½ cup sliced onion
5 tablespoons Canola oil
½ teaspoon crushed ginger
2 teaspoons garlic
1 cup chopped tomato
1 cup frozen peas
1 teaspoon chili powder
1 teaspoon ground cumin powder
3 teaspoon coriander/cilantro powder
½ teaspoon turmeric powder
salt or to taste
3 sticks of cinnamon
A few sprigs of coriander to garnish
Method
Cut of any blemishes & separate florets. Rinse under running water, then soak in bowl of water while preparing other ingredients.
Heat oil on medium-high temperature. Add cinnamon sticks followed by the sliced onion, garlic & ginger
Lower heat, when onion is soft, add tomato & cook until a nice mashed mixture forms. Stir to avoid burning. Now add salt & all the spices. Mix well
Add cauliflower, blend with mix in pot. Close the lid & lower the temperature
Allow to cook for 12-15 minutes, There should be a build up of about a cup of liquid in the pot
These are juices that come from the cauliflower. If you do not have this amount of liquid, cook with the lid on for a few more minutes
Add the frozen peas. Mix well taking care not to break the florets. Raise the temperature to a high heat & stir frequently. Do not put on the lid.
Allow the liquid to evaporate, while adding the mix onto the florets. When the liquid is reduced lower temperature and coat cauliflower with the remaining mix
You can test if the cauliflower is cooked by poking with a sharp knife. It should be soft and ideally still whole. If you are trying this recipe for the first time, don't worry if the cauliflower is quite mashed, it should still taste good. It will come with experience. Garnish with coriander and serve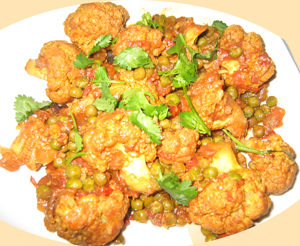 Here it is, a tasty dish of cauliflower all ready to eat.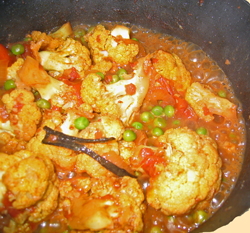 Cauliflower cooking on a high temperature. Note the bubbles on side as the liquid is being reduced.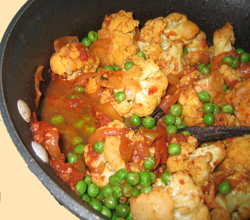 Note liquid on left from slow cooking cauliflower, no water added.

If you have any questions or would like to add a recipe of your own, email me, Nirmala, at


I will be happy to help with inquiries. The site will be regularly updated with tasty recipes, hints and tips. You will find my contact information at Contact