Green Banana Mash Curry
One of my favorite vegetables is green bananas. It can be cooked in so many ways and I love all them all.
Mashed green bananas is delicious and makes an excellent accompaniment to rice and dhall. Make sure that you choose bananas that are dark green and really hard to the touch.
I plan to add recipes for other versions. Please share your recipe for green bananas. See link below on how to reach me.
Here is the recipe for mashed green bananas.
Ingredients
3 large green bananas
5 tbsp. canola oil or whatever oil that you use
1 tsp. each mustard & cumin/jeera seeds
1 tsp. salt
½ cup diced onions
3 green chilies and 3 red chilies. The colors are optional and amounts depends on your taste
1 tsp. fresh ground ginger
¼ tsp. turmeric powder
1 tsp. cumin powder
A few sprigs of curry leaves, (if you have them)
Method
Choose bananas that are firm and green. They should not be soft
Boil water in a pot that the bananas fit into into. Add a few drops of oil to the water
Rinse bananas but do not peel
You may turn the bananas as they cook in the boiling water. This process can take between ½ - 1hour
The green bananas will turn a dull greenish-brown color. Poke with a knife to test if it is cooked
Your knife should easily slip into the banana. Switch off stove and remove bananas with a spoon
Cut of an end of the banana and slip of the peels
Either mash or grate the soft bananas. Keep aside. This step can be done in advance and frozen if you are not ready to cook this dish
Heat oil. Sauteé mustard & cumin seeds for a few seconds
When they begin to pop, add onions, curry leaves, chilies and ginger
Mix and cook until onions are soft. Add turmeric powder and green bananas, salt & blend. Close lid and lower temperature
If you find that some pieces of the mash have hard pieces of banana, just add up to ½ cup of water and continue to cook for 3-5 minutes
When the contents are soft it will be cooked. Adjust for salt
Switch off heat and leave pot with lid closed.
Serve with rice and dhall, roti or bread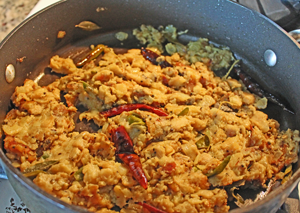 Bananas cooking in pot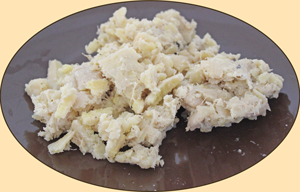 The green boiled green bananas boiled and mashed, ready to be cooked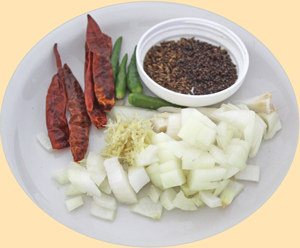 A few of the ingredients. Onions, red dry chilies, ginger, cumin & mustard seeds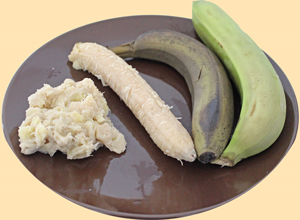 Green Bananas in various stages of preparation. Fresh, Boiled, Peeled and Mashed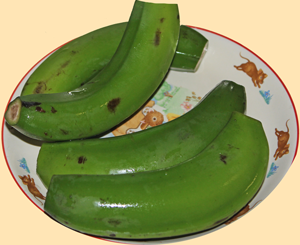 Really Green Bananas
If you have any questions or would like to add a recipe of your own, email me, Nirmala, at


I will be happy to help in any way I can. The site will be regularly updated with tasty recipes, hints and tips. You can also reach me at Contact